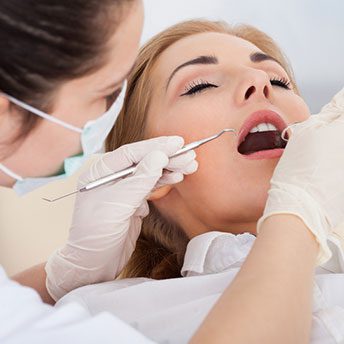 Most people experience a certain amount of anxiety during a trip to the dentist or doctor. But for some dental patients, that anxiety can be overwhelming – to the point that they may actually postpone their visit or cancel it altogether. Regular trips to your dentist are an absolute necessity to maintain your oral health, which is why Live Oak Family Dental Care offers sedation dentistry for our patients from throughout the Leander, TX, and West Lake Hills, TX, areas.
What We Offer
We want to make our patients as comfortable as possible during their visit to our office. For that reason, we offer nitrous oxide (also known as "laughing gas") as an effective form of sedation dentistry. Nitrous oxide leaves patients in a very relaxed state. Although they remain awake during the entire visit, they will typically feel very at ease and anxiety-free. Nitrous oxide also makes patients feel slightly giddy, which is how the substance earned its nickname. The effects wear off very quickly, so patients are able to drive themselves home after their appointment.
How Sedation Dentistry Can Help You
If you feel extremely nervous about visiting the dentist, nitrous oxide can help. The more at ease you feel during your appointment, the more likely you are to keep future appointments. And the more regularly you visit the dentist – not only for restorative or cosmetic procedures, but also for preventive care – the better your chances are to maintain your good oral health. Nitrous oxide has been used by dentists for many years. It has been proven to be completely safe and effective. An added benefit is the fact that it wears off quickly, so you can easily drive yourself home after the appointment.
Contact Us Today
For more information about sedation dentistry and nitrous oxide, contact us today. We are pleased to offer two convenient locations for our patients: one in Leander, TX, and another in West Lake Hills, TX.
Our office is always welcoming new patients. Please use the form below if you have any questions. Any specific questions regarding procedures and services will be covered during your appointment. We will get back to you as soon as possible!
We love to hear from you! Send us a message
Follow is on social media!
Check out our blog for educational content, news, updates and announcements from the Live Oak Family Dental Care team!
<!—-><!—->
<!—->
<!—->
<!—->
<!—-><!—->
<!—->
<!—->
If you're dissatisfied with the appearance of your smile, it's time to […]
<!—-><!—->
<!—->
<!—->
<!—->
<!—-><!—->
<!—->
<!—->
Are you interested in straightening your teeth, but not looking forward to […]
<!—-><!—->
<!—->
<!—->
<!—->
<!—-><!—->
<!—->
<!—->
Family dentists in the Leander area may all offer similar services, but […]
Don't take our word for it – we have over 108 Google Reviews!
Great experience at Live Oak in Leander! Friendly staff, the Dental Hygienist Janine was great and very sweet. The dentist Priscila Donangelo was amazing – very knowledgeable, attentive, explained me everything that was going on and need to be done.
Dr. Argandoña and Dr. Donangelo are both great dentists and are also very caring. They are thorough but not pushy and they try to explain everything very well. I have also found both of them to be gentle, warm and compassionate, as well as accessible when I need them!
From arrival to departure gives this dentistry office an A+. Your local neighborhood dentist gives you undivided attention and is great with kids! They always ask for permission from the parent before doing any services to the child. They are a very friendly staff.
Joining the Live Oak Family Dental Care Family is quick and easy!