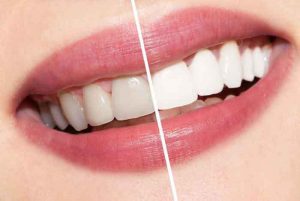 Frequently Asked Questions
Question:
Why should I go to the dentist for teeth whitening when there are so many over-the-counter products available?
Answer:
Over-the-counter products are typically not nearly as effective as professional whitening take-home kits from your dentist.
Question:
I have a lot of crowns and fillings. Will the whitening agent work on those restorations?
Answer:
No. Whitening agents of any kind only work on your natural teeth.
Question:
If I purchase a take-home whitening kit, how often can I whiten my teeth?
Answer:
You can whiten as often as you'd like, but it's important to remember that whitening too often may increase the sensitivity of your teeth and, in some cases, can even result in a bluish tinge on your teeth.
Question:
My teeth are sensitive. Can I still have my teeth whitened?
Answer:
Whitening can increase sensitivity in your teeth, but that usually goes away fairly quickly. Still, some people with sensitive teeth find whitening to be uncomfortable. Dr. Argandona can tell you whether or not whitening would work for you.
Why Choose Live Oak Family Dental for Teeth Whitening
Whitening your teeth is one of the easiest and fastest ways to brighten your smile.
Take-home whitening kits provided by your dentist are more effective than over-the-counter products.
Studies show that a more attractive smile improves a person's self-esteem!
What to Know about Teeth Whitening
While it's definitely true that teeth whitening is a great way to improve the appearance of your smile, it's important to remember that it may not be the right choice for everyone. If you have sensitive teeth, whitening will increase that sensitivity for a short time afterwards. Whitening products don't work on dental restorations, such as crowns and bridges, for example. And teeth whitening is not recommended for children.
Contact Live Oak Family Dental Care for Teeth Whitening
For more information about our take-home teeth whitening kits, contact our office today. We offer two convenient locations for our patients: one in Leander, TX, and another in West Lake Hills, TX.
Our office is always welcoming new patients. Please use the form below if you have any questions. Any specific questions regarding procedures and services will be covered during your appointment. We will get back to you as soon as possible!
We love to hear from you! Send us a message
Follow is on social media!
Check out our blog for educational content, news, updates and announcements from the Live Oak Family Dental Care team!
<!—-><!—->
<!—->
<!—->
<!—->
<!—-><!—->
<!—->
<!—->
If you're dissatisfied with the appearance of your smile, it's time to […]
<!—-><!—->
<!—->
<!—->
<!—->
<!—-><!—->
<!—->
<!—->
Are you interested in straightening your teeth, but not looking forward to […]
<!—-><!—->
<!—->
<!—->
<!—->
<!—-><!—->
<!—->
<!—->
Family dentists in the Leander area may all offer similar services, but […]
Don't take our word for it – we have over 108 Google Reviews!
Great experience at Live Oak in Leander! Friendly staff, the Dental Hygienist Janine was great and very sweet. The dentist Priscila Donangelo was amazing – very knowledgeable, attentive, explained me everything that was going on and need to be done.
Dr. Argandoña and Dr. Donangelo are both great dentists and are also very caring. They are thorough but not pushy and they try to explain everything very well. I have also found both of them to be gentle, warm and compassionate, as well as accessible when I need them!
From arrival to departure gives this dentistry office an A+. Your local neighborhood dentist gives you undivided attention and is great with kids! They always ask for permission from the parent before doing any services to the child. They are a very friendly staff.
Joining the Live Oak Family Dental Care Family is quick and easy!